Our Blog
Swamped at the Office? Let us Help!

Tuesday, October 12, 2021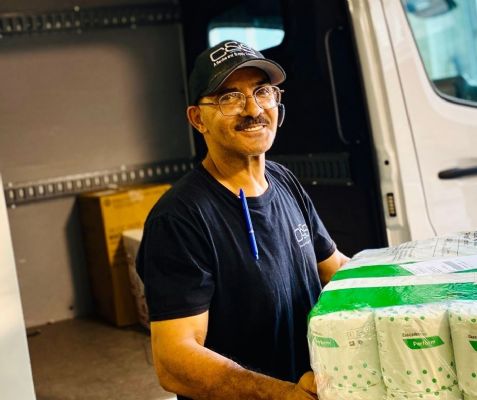 It's no secret that business of all types, shapes and sizes are experiencing an increased workload and shortage of employees to help tackle it all. Sound familiar? If you answered "Yes!" it may be time to give C&S — A Service & Supply Co. a call.

What can we do? It might be easier to answer what we can't help with, as our service line-up is quite extensive. Reach out if any of the below bullet points is on your seemingly never-ending "to do" list:

• Wall repair/painting
• Carpet installation and cleaning (plus sales — we're one-stop-shop for carpeting!)
• Existing furniture moving and set-up
• Picture hanging and installing other wall-mounted items
• Acoustic panel installation (and sales)
• Document shredding
• New and existing cubicle installation and reconfiguration, as well as new cubicle sales
• New office furniture design, sales and installation

Experience & Efficiency

Not only do we offer the above services and products, but we employ skilled and friendly crews that complete expert work with minimal disruption. They have years of hands-on experience and can perform quality work quickly.
Having trouble envisioning some design work you'd like realized? Don't worry. Our office design services include 3D (CAD) drawing capabilities to help you visualize your space and the scope of work. We can take care of you from start-to-finish, from supply sourcing, to installation, to wrapping up the job professionally and cleanly.

Take it from our Clients

We're proud of the positive feedback we've received from those we've worked with, including Audrey Muska, Senior Practice Manager with Wellspan Family Medicine. Says Audrey, "I have worked with Scott Wicks and C&S for many years. I have never dealt with a company that is so responsive and attentive to their customers. The advantage in working with an independent company is in the way they are able to meet a customer's needs on time and on budget and still retain that personal touch that means so much these days. If I had to choose between C&S and some of the bigger supply companies, it would be C&S every time. I am happy to recommend them to anyone looking for a company that still provides superb customer service."

Want to learn more about how C&S Supply Co. can help you? Interested in a quote for the work your office requires? Call us at 610.685.2727 or visit online at www.cssupply.net. We look forward to providing you with service that exceeds your expectations.
---